100% Recycle Eco Polyester Sewing Thread
TATH ECO Polyester Sewing Thread use special yarn which made of recycled plastic bottles with a series of complicated processes, it's 100% recycled, designed to assist in meeting the challenge of manufacturing environmentally responsible apparel. It is certified to Oko-Tex Standard 100.
Features
Main use
Wide range of uses, all knitwear, furniture interiors, bags, shoes, all kinds of lines, etc.
Features and benefits
100% post consumer recycled polyester fiber
Polyester fiber certified by GRS (Global Recycling Standard)
Excellent dry heat shrinkage solution to significantly increase customer profitability
Excellent sewing effect
Excellent color fastness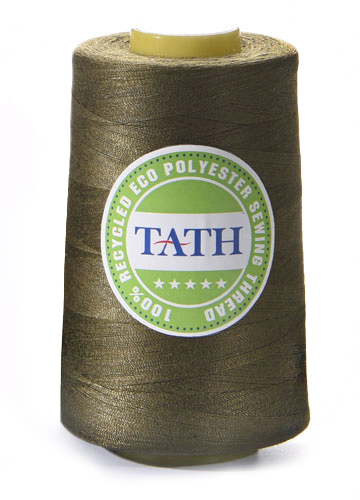 Chemical Character
Inorganic acids 
long-lasting ability for most inorganic acids
Alkaline
Unaffected by weak alkali
it has a greater impact on durability with strong alkali, especially at high temperatures.
Organic solvents 
Generally unaffected, but soluble in benzene-containing compounds
Rinse
Unaffected
Insects/microorganisms (mold, decay)
Unaffected
Washing/dry cleaning
Unaffected
Moisture absorption rate
0.40%
Technical Data
| | | | | |
| --- | --- | --- | --- | --- |
| Ne | Tex | Average Strength (cN) | Breaking Elongation (%) | Boiling Water Shrinkage (%) |
| 20S/2 | 28.8*2 | 2025 | 13.0-19.0 | <1.0 |
| 20S/3 | 28.8*3 | 3100 | 14.0-21.0 | <1.0 |
| 30S/2 | 19.4*2 | 1300 | 10.0-16.0 | <1.0 |
| 40S/2 | 14.6*2 | 1020 | 9.5-16.0 | <1.0 |
| 40S/3 | 14.6*3 | 1450 | 11.0-18.0 | <1.0 |
| 45S/2 | 13.0*2 | 875 | 9.5-16.0 | <1.0 |
| 50S/2 | 11.7*2 | 810 | 9.5-16.0 | <1.0 |
| 60S/2 | 9.7*2 | 640 | 8.5-14.5 | <1.0 |